The MIC 79110 is a simple 1.2A linear lithium-ion battery charger. This device features built-in transistor, precision programmable current limiting (+ or -5%) and precision voltage termination (+ or -0.75% over temperature) in a compact package. It packs full functionality into a small space. Other features of the MIC 79110 include two independent end-of -charge indications, including a digital indication that is programmable with a resistor-to-ground and an analog current, allowing for monitoring of the actual charging current.
Additional feature include very low dropout (550mV over the temperature range), thermal shutdown and reverse polarity protection. In the event input voltage to the charger is disconnected, the MIC 79110 also provides minimal reverse current and reversed battery protection.
Circuit Diagram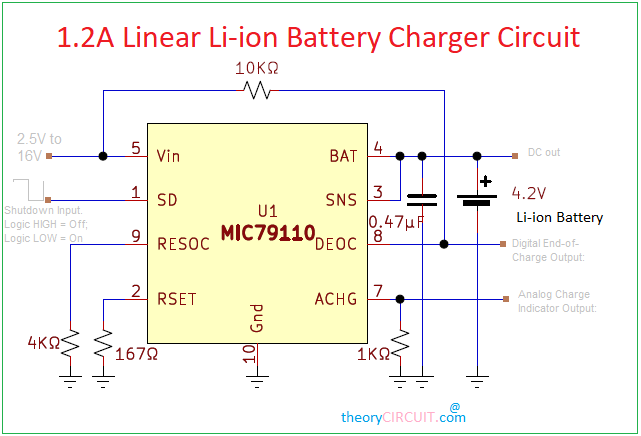 BOM
| | | | |
| --- | --- | --- | --- |
| S No | Designator | Value | Quantity |
| 1 | MIC 76110 | | 1 |
| 2 | Resistor | 4KΩ | 1 |
| | Resistor | 167Ω | 1 |
| | Resistor | 1KΩ | 1 |
| | Resistor | 10KΩ | 1 |
| 3 | Capacitor | 0.47μF | 1 |
| 4 | Battery | 4.2V | 1 |
Construction and Working
The MIC 79110 forms a complete charge for 1-cell Lithium-ion batteries. It includes precision voltage control (0.75% over temperature) to optimize both cell performance and cycle life. All are compatible with common 4.2V can be obtained with the adjustable version. In current limit that is set by the RSET pin with a resistor -to-ground. Using a 167Ω RSET resistor will achieve the maximum current limit for the MIC 79110 at 1.2 Amperes.
REOC pin is connected to a resistor -to-ground. This resistor is used to set the end of charge current for the lithium-ion battery. Using a 4KΩ REOC resistor will set the end-of-charge at 50mA.
Digital end-of-charge output this pin is the output of an open drain. When tied high to the supply using a resistor the output will toggle high or low depending on the output current of IBAT.
In Analog end-of-charge output the ACHG pin provides a small current that is proportional to the charge current. The ratio is set at 1/1000th of the current.
Shutdown (SD) pin serves as a logic input(active low) to enable the charger. Built in hysteresis for the shutdown pin 50mV over temperature.
SNS for fixed voltage only sense output connect directly to battery. Battery terminal connect to single cell lithium-ion battery.