Solid State Relays are electronic device, it mimics the operation of electromagnetic relay without any moving or magnetic materials. Most of the solid state relays are comes in a integrated circuit format and hence very compact than traditional relay.




Solid state Relay uses the optical signal for its operation so we can drive these components by minimum voltage and current and it gives faster response than the mechanical one.
30V Solid State Relay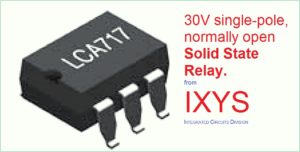 IXYS integrated circuits division brings LCA717, it is 30V single pole normally open solid state relay, It uses optically
coupled MOSFET technology to provide 3750Vrms of input to output isolation, and features an ultra-low on resistance for high-current operation.
IXYS uses their own optomos architecture in this solid state relay and controlled by a highly efficient GaAIAs infrared LED. It gives fast and reliable output with bounce free switching, the LCA 717 available in a more compact surface mount or thru-hole package.
Features
•Very Low Maximum On-Resistance: 0.15Ω
• High Load Current: 2A
• 3750Vrms Input/Output Isolation
• Low Drive Power Requirements (TTL/CMOS Compatible)
• No Moving Parts
• High Reliability
• Arc-Free With No Snubbing Circuits
• No EMI/RFI Generation
• Small 6-Pin DIP Package
• Machine Insertable, Wave Solderable
• Surface Mount, Tape & Reel Version Available
Applications 
• Sensor Circuitry
• Instrumentation
• Multiplexers
• Data Acquisition
• Electronic Switching
• I/O Subsystems
• Meters (Watt-Hour, Water, Gas)
• Medical Equipment: Patient/Equipment Isolation
• Aerospace
• Industrial Controls
Pin Configuration

Reference