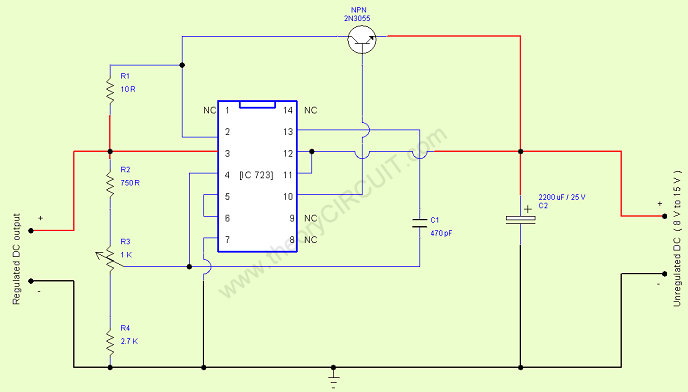 This circuit brings regulated DC output from unregulated DC input supply, the famous linear regulator ic 723 is used in this circuits. This is constructed with few components like resistor, capacitor and a transistor.
We can get different level of output dc by varying variable resistor R3 1K ohms placed near regulated DC output terminals.
NOTE: this circuit illustrated without step-down transformer and Rectifier circuits, hence it is compulsory. (If you DC from AC power supply). This circuit designed to give 9 V Regulator Power supply.
Components List
S.No
Name
Quantity
1.
IC 723
1
2.
Transistor 2N3055
1
3.
Capacitor 2200uF/25V
Capacitor 470pF
1
1
4.
Resistor 2.7K
Resistor 750R
Resistor 10R
Variable Resistor 1K
1
1
1
1