Happy to see the brand new arduino IDE 1.6.9 with Yun shield support, make lot of IoT without hesitation. The new Yun shield option allows us to upload the arduino code over the air (Yes ofcourse through internet).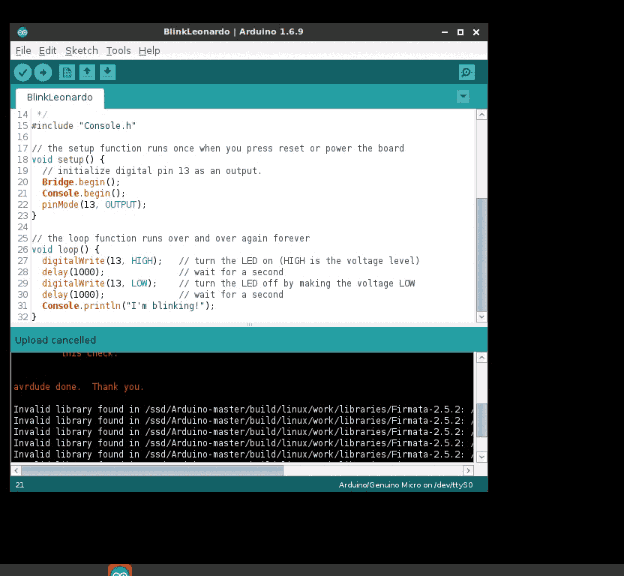 Arduino Software Release Notes:
This version of IDE comes with the statement of fixing some long standing issues.




-> The problem with FTDI serial ports on windows rises with arduino IDE 1.6.8 has been fixed.
-> The update popup is no-longer always on top.
-> Error reporting multiple sketches now works correctly in all aspects.
-> The AVR core now recognizes if a new bootloader is present and uses a safe RAM location to trigger programming.
(Source: https://blog.arduino.cc/2016/05/10/ide-1-6-9-just-released-with-yun-shield-support-and-more/#more-13604)
It would be better if
When I browse on internet i have noticed about Programino IDE, which provides so many features as professional likes.
Programino is the integrated development environment for Arduino & Genuino. It is an comfortable easy to use alternative IDE for arduino and compatible microcontroller boards.
Supported Languages by Programino
Arduino file (*.ino)
Header file (*.h)
C file (*.C)
C++ file (*.Cpp)
HTML file (*.html)
HTM file (*.htm)
Java script file (*.js)
CSS file (*.css)
text file (*.txt)
Notable Features of Programino
Custom Syntax-Highlighting and Syntax-Style

Code Autocompletion, Snippets and Information "hints"

Code Folding

Find & Replace

Simple IDE and Editor Configuration

Project Explorer

Object Explorer

Hex-File Extraction for Production

Hardware Viewer

2x UART-Terminals

Value Converter

Dot-Matrix LCD-Designer

RGB-LED Color Selector

Serial Analog Plotter

Export Function to Arduino IDE

Use all Arduino libraries

HTML5 Web-Editor for IoT with Arduino/Genuino
Like that the Official Arduino software having these features means that would be more enjoyable by the artists, makers and professionals.