Yes finally the arduino builtin breadboard hardware comes alive, STEMTera creates this innovative tool and makes breadboard with Arduino compatible hardware builtin and works with many shields.




This STEMTera breadboard contains two microcontrollers ATmega16U2/32U2 and provides space for shield & Arduino I/O pins, viz users can develop native USB projects with an Extra 21 I/O pins. These extra I/O pins can work directly with LUFA frame work. (Light weight USB Framework for AVRs).
STEMTera breadboard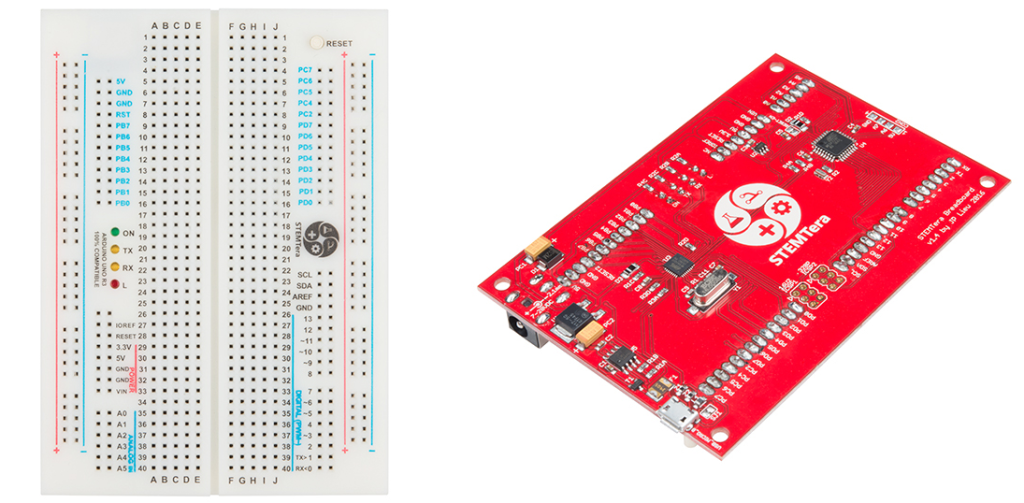 STEMTera breadboard contains dual microcontrollers with a total of 41 I/O pins of which 9 provide PWM. It has LEGO compatible bottom cover and ATmega32U2 allows native USB development, 4 LEDs are embedded in this breadboard to act as indicator for L,Rx,Tx and ON status.This board supports multiple IDE like Atmel studio,Arduino IDE, AVR-GCC, AVR-GCC with LUFA, Scratch etc.., It is built with strong ABS plastic.
Features:
Dual Microcontroller – ATmega328P & ATmega16U2
LEGO® Compatible Bottom Cover
USB Native Development
4 LEDs (Power, TX, RX and L)
White ABS Enclosure
111.8mm x 79.8mm x 16.1mm dimensions
IDE Support

Atmel® Studio
Arduino IDE
AVR-GCC
AVR-GCC with LUFA
Scratch
You can get it from: Sparkfun.com
Reference
http://learn.stemtera.com/en/begin/