It is Very Important to test every individual electronic components before fabricating circuit and we use different equipment like multimeters, oscilloscope etc..,




After fabricating components into a PCB (Printed Circuit Board) or circuit, it is very difficult to test electronic components by the way of traditional testing equipments, for an example if you want to test the on board resistor value with the help of multimeter the resistor's terminals are interconnected with other components through PCB's conductive track.
Now a days SMD (surface mount device), QIP (quad inline package) IC, BGA (ball grid array package) IC and dual side PCB makes very difficult to testing components on board with traditional meters and oscilloscope.
ATE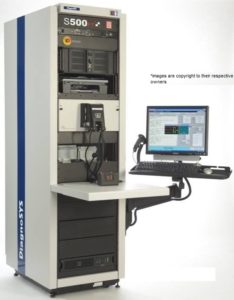 To diagnose the printed circuit board and onboard components, semiconductors, Automated test equipments are used by the electronics manufacturing industries, this article intended give you basic idea and clarification over Automated test Equipments or Automatic test Equipment. The device which is tested by the ATE is called as DUT (device under test) or UUT (unit under test), this automated test equipment contains a computer operated machine tool with software to perform device test and performance analysis..
Simple ATE performs volt-ohm measurements and complex ATE performs different logic, wafer testing and boundary scanning   etc..,
The ATE classified depends on the testing methods, mostly the ATEs are designed for to serve the requirements of electronic manufacturer industry.
Desktop ATE / Testers
Semiconductor ATE
Circuit tracing or Reverse Engineering ATE
Wire Harness Analyser
Hand held testers
Boundary scan testers.
By using these kind of ATEs a PCB and fabricated electronic components can be diagnosed efficiently.