For Battery powered design we always looking for low dropout voltage regulator, by picking the Low dropout Regulators we can improve the operation time by using battery. Here AZ1117C Low Dropout Linear Voltage Regulator Circuit designed to give Adjustable and fixed output voltage.
AZ1117C is a low dropout three-terminal regulator from Diodes Incorporated. The AZ1117C is optimized for low voltage design where transient response and minimum input voltage are critical. It provides current limit and thermal shutdown. It has trimmed bandgap reference to give accurate output voltage.
Circuit Diagram of Adjustable Regulator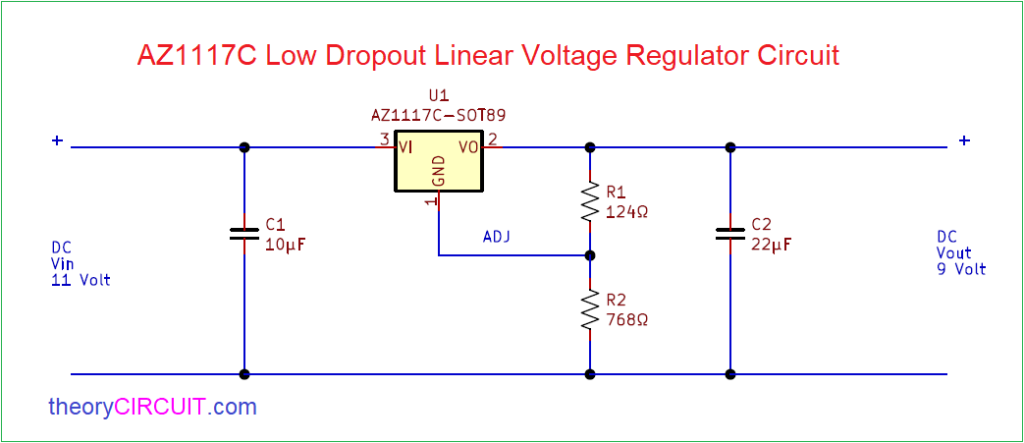 Adjustable Regulator Calculation

Circuit Diagram of Fixed Regulator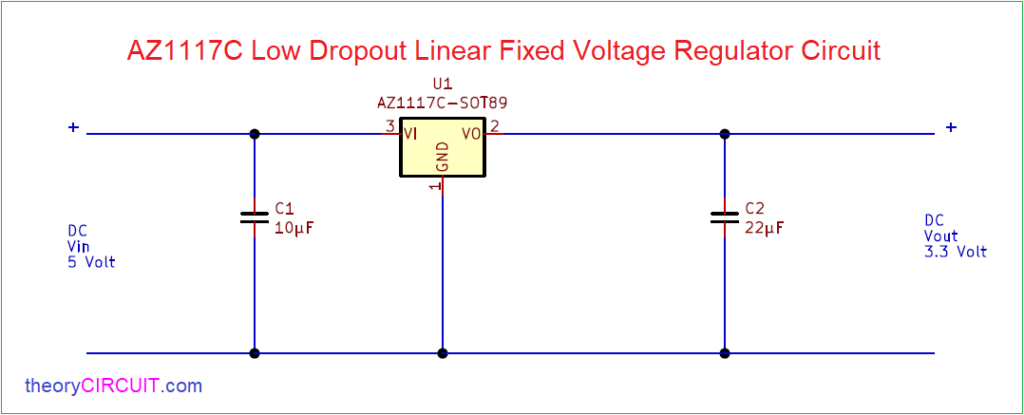 Components Required
IC AZ1117C
Capacitor 10µF, 22µF each one SMD 0805
Resistor 124Ω, 768Ω each one SMD 0805
Circuit Construction & Working
The AZ1117C is available in 1.2V, 1.5V, 1.8V, 2.5V, 3.3V, 5.0V fixed
output voltage versions and ADJ output voltage version. We can use AZ1117C as a Adjustable voltage Regulator or Fixed one by using few external Resistors and capacitors. And also AZ1117C comes in different packages. It can take input voltages upto 18 volt and gives output voltage range from 1.5V to 10V.
For Adjustable voltage regulator design using AZ1117C we need to place a voltage divider setup using two resistors, and connecting Adj pin to voltage divider makes AZ1117C as a Variable voltage Regulator, here the output voltage depends on the Value of R1 and R2 Resistors. C1 and C2 capacitors are used as a Filters.
For Fixed voltage regulator design using AZ1117C we need only voltage filter Capacitors C1 and C2. By choosing AZ1117C fixed voltage (
1.2V, 1.5V, 1.8V, 2.5V, 3.3V, 5.0V ) we can obtain accurate regulated output voltage.