A complete Bluetooth Smart development system in a tiny package with this tag line ST brings Bluecoin  breakout board with lot of embedded features that all you need for BLE development.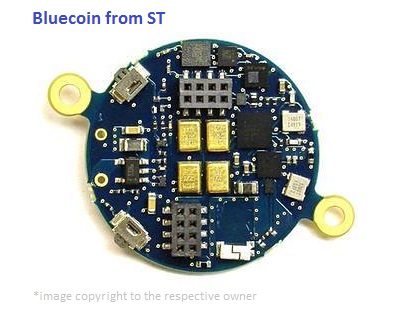 The bluecoin contains STM32F446 (ARM Cortex-M4F at 180MHz – 128KB RAM) as a main microcontroller, MP23DB01MM is a MEMS compact, low-power microphone built with a capacitive sensing element and an IC interface. placed in array format to detect perfect acoustic waves.




BlueNRG-MS is a very low power Bluetooth low energy (BLE) single-mode network processor and works with ARM cortex-M core without consuming much energy. This chip enables Bluetooth 4.1 and do multiple role simultaneously. The LSM6DS3 is a system-in-package featuring a 3D digital accelerometer and a 3D digital gyroscope performing at 1.25 mA in high-performance mode and, The LIS3MDL is an ultra-low-power high performance three-axis magnetic sensor it can be a 6+3 axis inertial module. The LPS22HB is an ultra-compact piezoresistive absolute pressure sensor which functions as a digital output barometer.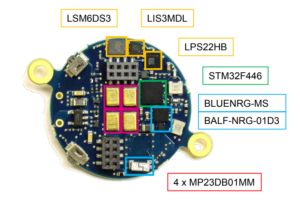 This tiny bluecoin breakout board enables hassle free voice to cloud communication and voice automation in many application platform.
Reference
http://www.mouser.com/pdfdocs/en2016SensorsExpo_RSannino_BlueCoin.pdf