This Clap switch circuit using IC 555 is a hobby circuit, makes LED to glow while you clap or make louder noise. You can use this circuit concept in many ways to activate sound based project.
This construction will give mono pulse when trigger received from mic, the duration of pulse time varies respect to R2 and C2 (Timing elements) connected with IC555. Here First circuit designed for high sensitivity and second one is for normal clap and sound.
Circuit Diagram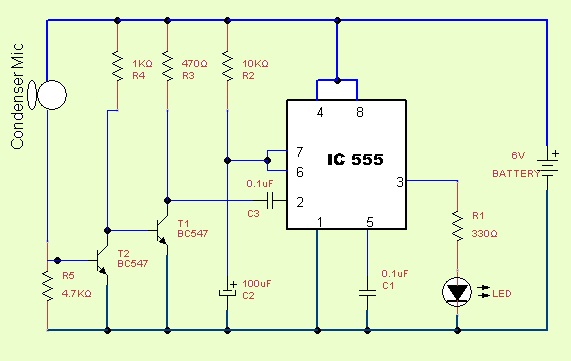 Working details
The condenser mic reacts as sound sensor, this will produce voltage oscillation when the loud sound produced. Those voltage oscillation signals are amplified by two stage (BC547) amplifier and given into triggering input of IC555. When receiving triggering input the timer IC makes mono pulse depends on timing resistor and timing capacitor (R2, C2). Here output drives LED, we can connect buzzer or relay as required for our need.
Simplified Clap switch circuit using IC 555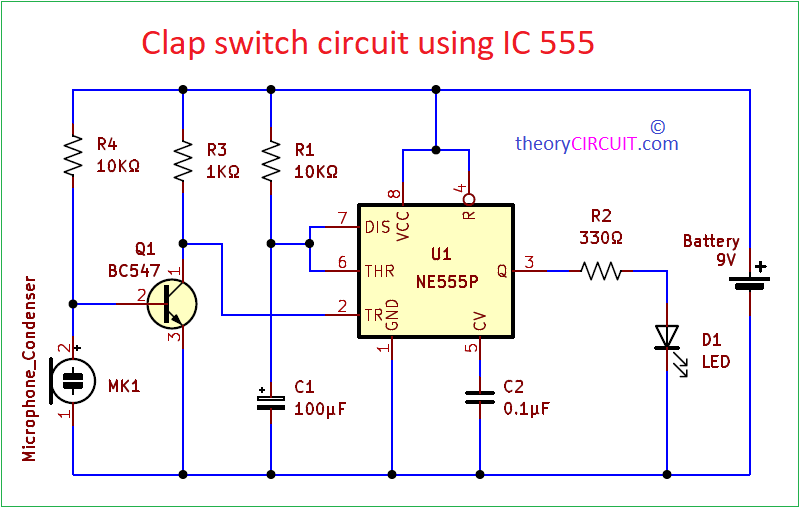 Working details
Here the Timer IC 555 configured in Monostable multivibrator or one shot pulse mode, Vcc and Reset pins are connected to the Positive supply and Ground pin is connected with negative supply. Control voltage pin is connected to the negative supply through C2 capacitor. Output pin is connected to LED. Discharge and Threshold pin connected together between Timing Resistor R1 and timing capacitor C1. Charging and Discharging time of C1 decides the duration of output pulse.
Trigger pin is connected with Transistor Q1 collector. Here the Q1 acts as Switch, Whenever the base terminal receive voltage variation from the condenser mic then Q1 gets turn ON and OFF. Due to sudden ON condition of Transistor, Negative fall supply reaches the Trigger pin and internal circuit detects and makes HIGH pulse and makes LED ON for the duration of 1.1*R1*C1. After this time period LED goes to OFF condition. For time duration calculation use Monostable Multivibrator calculator.
Prototype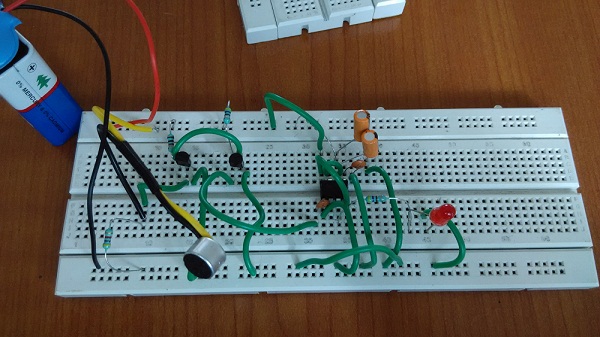 Components List
S.No
Name
Quantity
1.
IC 555
1
2.
Condenser Mic
1
3.
Transistor BC547
2
4.
Resistor
330Ω
10KΩ
470Ω
1KΩ
4.7KΩ

1
1
1
1
1
5.
Capacitor
0.1uF
100uF

2
1
6.
LED
1