The IC 555 timer, often referred to simply as the "555" is a highly flexible and reliable timer IC that employed in a diverse range of applications. Originally intended for timing and pulse generation tasks, its functionality has transcended its initial purpose. Its robustness, simplicity, and ease of use have made it a favorite among electronics enthusiasts, engineers, and students alike. Its fun to imagine any circuit design with timer IC 555 and it have the potential to bring it working prototype. We know Timer IC 555 is a versatile integrated circuit that widely used in electronics for various applications, Here we have tried a new thing that is Amplification of input signal by using IC 555 that is IC 555 as Amplifier.
Yes IC 555 can amplify the input signal without any phase inversion. To achieve amplification make the connections as per the circuit diagram. Purpose of this circuit is just an experiment, if you want to design professional Audio amplifier circuit then try this https://theorycircuit.com/6283-audio-amplifier-circuit/. Following 555 circuit configured to give modified PWM output depends on the input through control voltage Pin 5.
Circuit Diagram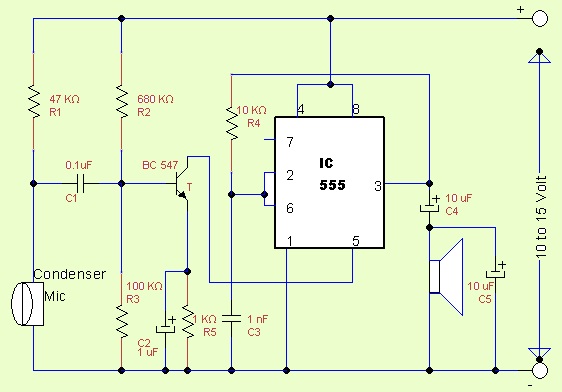 Components List
S.No
Name
Quantity
1.
IC 555
1
2.
Loudspeaker 8Ω
1
3.
Condenser Mic
1
4.
Transistor BC547
1
5.
Resistor
47KΩ
680KΩ
100KΩ
1KΩ
10KΩ
1
1
1
1
1
5.
Capacitor
0.1uF
1uF
1 nF
10uF
1
1
1
2
Working details
Here the condenser mic biased with the supply through 47KΩ resistor and output taken from mic. Here you will only receive mV range output hence it is need to be pre amplified. The BC547 NPN transistor acts as preamplifier and the output connected with control terminal (Pin5) so IC 555 gives modified PWM output depends on input from mic. Connecting loudspeaker at output terminal (pin3) gives amplified sound.
Use 8Ω / 0.5 watt speaker for better output. It's important to note that, IC 555 as Amplifier circuit has limitations regarding bandwidth and power output. For low-frequency applications and moderate amplification requirements, this configuration can be suitable.
IC 555 Pinout