If the constructed circuit is not giving proper output means we can check every components in the circuit and can change faulty one, but if the problem in IC means we cannot easily identify that problem.




In this circuit we can test two most common ICs that is Timer IC555 and operational amplifier IC741, use 8 pin IC base for both timer and op-amp IC.
To check IC555 place the testing IC in base and watch the output LEDs. If the two output LEDs connected with pin number 3 glows alternately means the tested IC is good otherwise this can be a fault IC. By the same way if you testing IC741 means the output LED connected with IC741 should glow otherwise it can be a fault IC.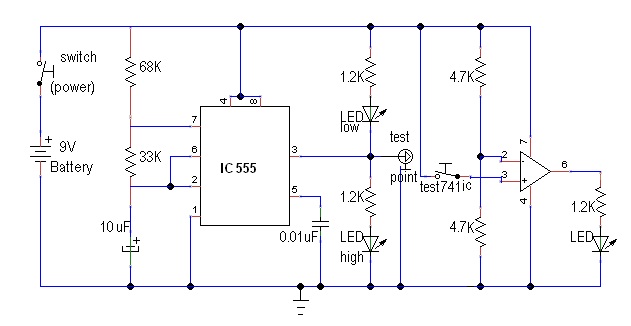 Components List
S.No
Name
Quantity
1.
8 pin IC base
2
2.
IC 555 and IC741
1 each
3.
LED Green
LED Red
2
1
4.
Resistor 68KΩ
Resistor 33kΩ
Resistor 1.2kΩ
Resistor 4.7kΩ
1
1
2
2
5.
Capacitor 10uF/16V
Capacitor 0.01uF
1
1
6.
switch
1