Designing Stereo audio amplifier always force us to employ lot of external components but by choosing specific new Integrated Circuits we can avoid those situations, here LM4755 stereo audio power amplifier circuit designed with minimized external components. The LM4755 is a stereo amplifier IC from texas instruments, it is capable of delivering 11 Watts output per channel to 4Ω load speaker.




LM4755 can drive 4Ω and 8Ω speakers in stereo output, this IC has special integrated mute function and it is designed to operate with single supply range from 9V to 40V. This Integrated circuit has internal gain resistors, internal current limiting and thermal protection. This stereo amplifier can be used in compact electronic products.
Circuit Diagram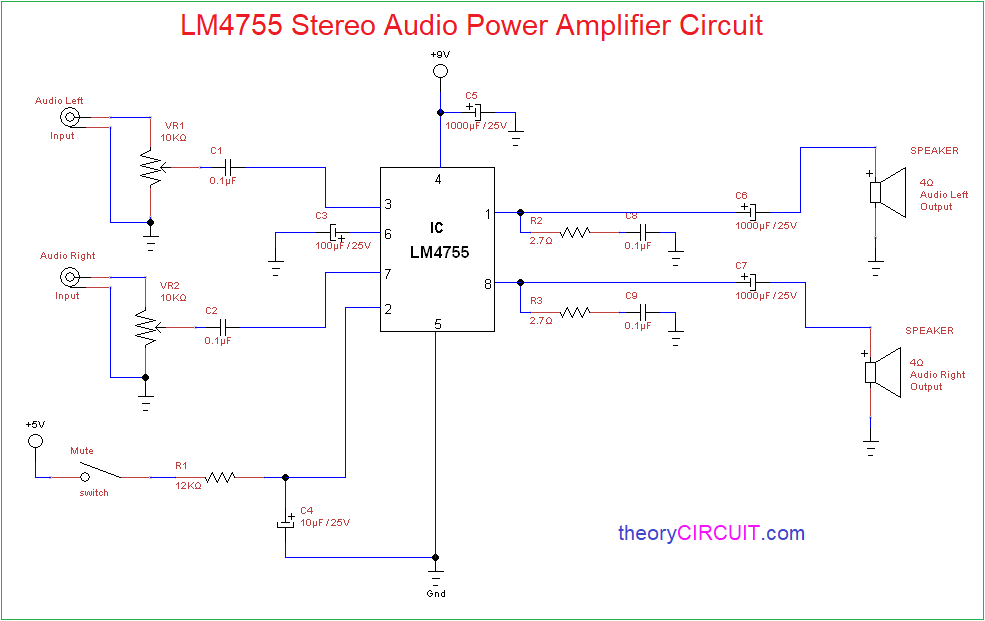 Construction & Working
LM4755 comes in Compact 9-lead TO-220 Package, easy to connect with heat sink and printed circuit board. Audio left and right inputs are connected with LM4755 input pins through Variable resistors VR1, VR2 and Coupling capacitors C1, C2, these capacitors blocks unwanted DC voltages at the input of Amplifier. Mute pin 2 is connected to 5V supply with R1 and C4 capacitors, these elements provides mute function timing.
At the output side pin 1 delivers Audio left output to 4Ω speaker through output coupling capacitor C6 and pin 8 delivers Audio right output. At both outputs R2, R3 & C8, C9 provides stabilization at the output stage from high frequency oscillations.
After completing the circuit wiring give stereo audio input at the input terminals and get stereo output response, here the circuit bias supply Vcc & Speaker Resistance can affect the output power. Use Regulated power supply setup to this circuit for better audio response.
It is designed for Analog audio input and LM4755 is Class AB architecture amplifier. This IC provides typical 83KΩ input impedance. Provides 80dB mute attenuation in mute mode.