Arduino Introduces a new board called MKRFOX1200, this board mainly focus on IoT (Internet of things) based applications and projects, it works on low power and provides cost effective solution to add sigfox connectivity.




Contains Microchip SAM D21 32-bit Cortex-M0+ Microcontroller as a main element, and comes in very compact form as 67mm X 25mm. This MKRFOX1200 board provides long range communication with the help of ATA8520, and it works over six months by using two standard AA 1.5V batteries as a power source.(interesting …)
The MKRFOX 1200 comes with GSM antenna and provides two year subscription to the sigfox network. Price tag of this board is €35.00 to know more.
MKRFOX1200 board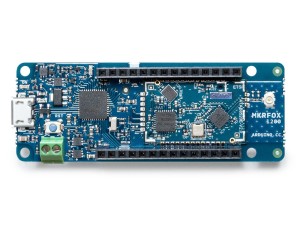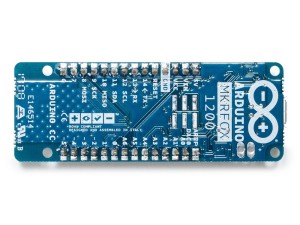 This board consumes very low power and two AA battery could enough to operate this board upto six months (as Arduino said). Refer product page before applying bias to the board because applying improper voltage could damage the board.
Technical Specifications:-
Microcontroller – SAMD21 Cortex-M0+ 32bit low power ARM MCU
Digital I/O Pins – 8
PWM Pins – 12 (0, 1, 2, 3, 4, 5, 6, 7, 8, 10, A3 – or 18 -, A4 -or 19)
Analog Input Pins – 7 (ADC 8/10/12 bit)
Analog Output Pins – 1 (DAC 10 bit)
External Interrupts – 8 (0, 1, 4, 5, 6, 7, 8, A1 -or 16-, A2 – or 17)
Flash Memory – 256KB
Clock Speed – 32.768 kHz (RTC), 48 MHz
LED_BUILTIN – 6
Antenna power – 2dB
Carrier frequency – 868 MHz
Working region – EU
Circuit Operating Voltage – 3.3V
DC Current per I/O Pin – 7mA
Going Further