This Over voltage protection switch circuit constructed with TL431 adjustable shunt regulator and MOSFET.
Circuit diagram for over voltage protection switch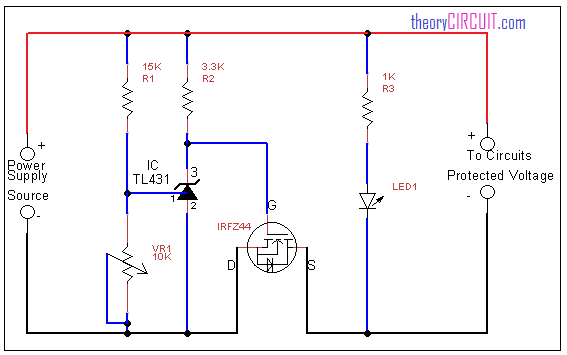 Construction and Working
       The TL431 device has three terminals and main application of this device is adjustable shunt regulation. The reference regulating voltage can be given through cathode and reference pin. Here the VR1 variable resistor decides the regulation range, by changing it we can get different range of regulating voltage.
  The LED1 gives status about the output voltage presence if the input voltage to this circuit goes beyond the limit that is over voltage means the TL 431 blocks the voltage through MOSFET hence the circuit connected with this setup protected from over voltage.
You can get datasheet of IC TL431 here.