White LED Driver Circuit using CAT3200-5 designed to work with Li-ion Battery and compact battery power sources. CAT3200-5 is switched capacitor boost converters that deliver a low noise, regulated output voltage. The CAT3200−5 gives a fixed regulated 5 V output.
The CAT3200−5 from on semiconductor is available in a 6−lead, 1 mm max thin SOT23 package. Maximum output loads of up to 100 mA can be supported over a wide range of input supply voltages (2.7 V to 4.5 V) making the device ideal for battery−powered applications. This IC is best suitable for White LED Driver application and 3 V to 5 V boost converters.
Circuit diagram

Construction & Working
All the components used in this circuit are SMD components, CAT3200−5 requires only three external capacitors (1μF) for its operations. Five White LEDs are connected at output terminal with separate 100Ω Resistors.
When we apply bias from 3 V Li-ion battery, CAT3200-5 uses a switched capacitor charge pump to boost the voltage at IN to a regulated output voltage. Regulation is achieved by sensing the output voltage through an internal resistor divider (CAT3200−5) and modulating the charge pump output current based on the error signal. The charging and discharging the flying capacitor continues at a free running frequency of typically 2 MHz. Refer datasheet for more specific design details.
PCB
White LED Driver Using CAT32 PCB Gerber files.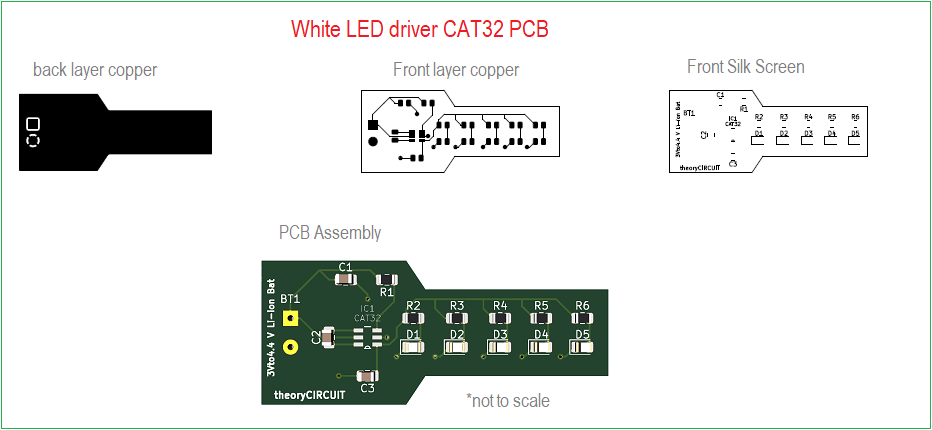 Interactive Board Viewer