We know the nickel–cadmium battery is called as NiCd battery or NiCad battery and this types of rechargeable batteries are made with nickel oxide hydroxide and metallic cadmium as electrodes. NiCd batteries provides better performance in compact size. Hence it is widely used in hand held and compact electronic devices. Simple NiCd Battery charger circuit made with few easily available components.
The following NiCd Battery charger circuit can be used for charging individual battery or battery bank. This circuit will provide limited current and voltage to the target battery.
Circuit Diagram

Components Required
Step down transformer (0-12V AC)
Bridge Rectifier Module or (1N4007 X 4)
Regulator IC LM317 = 2
Resistors 1KΩ, 120Ω, 510Ω each one
Resistor 10Ω/1W
Capacitor 47µ/16V
Construction & Working
To construct NiCd Battery charger circuit start with step down transformer and connect Bridge Rectifier module or Four 1N4007 diodes in bridge connection. Then use Capacitor to filter Rectified DC supply and LED1 Indicates the presence of DC power supply, apply positive supply to the Regulator IC1 here the Adj terminal of the IC1 is connected at the output terminal followed by R2 Resistor and hence it provides constant current regulation.
Then IC2 Provides Regulated output voltage at the Out terminal here the output voltage is depends on the R3 and R4 Resistors value, you can change these resistors value depends on your requirement and use IC LM317 data sheet for exact resistor value calculation.
NiCd Battery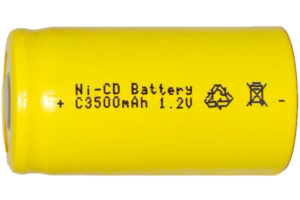 Here is the target Ni-Cd battery for our recharge circuit is shown and this battery provides 1.2 Volt with 3500mAh.