The timer IC555 has many applications as timer circuit, alarm circuit, wave generator etc.., for a change here we used IC555 as a amplifier.




Yes IC555 can amplify the input signal without any phase inversion. To achieve amplification make the connections as per the circuit diagram.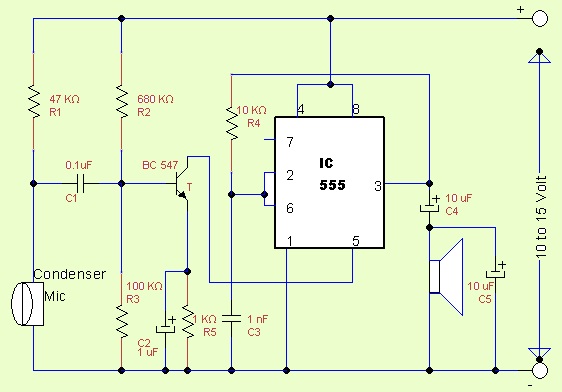 Working details
Here the condenser mic biased with the supply through 47KΩ resistor and output taken from mic. Here you will only receive mV range output hence it is need to be preamplified. The BC547 npn transistor acts as preamplifier and the output connected with control terminal (Pin5) so IC555 gives modified PWM output depends on input from mic. Connecting loudspeaker at output terminal (pin3) gives amplified sound.
Components List
S.No
Name
Quantity
1.
IC 555
1
2.
Loudspeaker 8Ω
1
3.
Condenser Mic
1
4.
Transistor BC547
1
5.
Resistor
47KΩ
680KΩ
100KΩ
1KΩ
10KΩ
1
1
1
1
1
5.
Capacitor
0.1uF
1uF
1 nF
10uF
1
1
1
2